Back in December 2016 at the age of 46, my daughter and myself went to visit her online friend from Brazil who was on vacation in Canada.  Her friend was a fan of BTS.  I had never heard of the group and when she showed me the Blood, Sweat & Tears video, on her phone as we walked through a mall, I said they looked like and sounded like girls and all look the same.
In the beginning of September 2017 my daughter asked me to watch a BTS video.  I remember that her friend introduced us to them back in December but this time I sat down and I watched it.  My daughter was so excited.  I noticed that they were really talented.  She tried to teach me their names.  I decided to surprise her by learning all their names on my own. I jumped down the rabbit hole and have happily lived there ever since.  I watched numerous YouTube videos about each member.  J-Hope and Rap Monster where the easiest to identify.  I wrote notes to help identify the other 5 members.  I remember thinking why do they say Jin is the visuals of the group, he is not that good looking.  I also had a hard time telling V from Suga. In less than a week after watching countless videos I knew all their stage names and was ordering the presale for Love Yourself Her on September 4, 2017 from Amazon. When the album arrived on September 18, 2017 I listened to it nonstop, in the car, at work, I could not get enough BTS content.  I spent hours on YouTube and Vlive. 
My next big step in the fandom was joining Twitter in November 2017 when BTS had ~10 million followers. I made my Twitter account @BTSmommy305.  I had a picture of BTS as my Header and my profile picture.  I describe myself as being a wife and a mother but had nothing about my age. I also did not show any pictures of myself.  I started following other accounts of older ARMY.  
I loved watching vlive, especially "Run BTS", "Bon Voyage ", and I sometimes got lucky enough to catch them live.  I would watch them, not understand what they were saying, with a big smile on my face, clicking that heart button. Once translations came up I would watch it again. When "The Wings Tour The Final" was going to be live streamed from Korea on vlive I purchased it, and woke up at 3 am on December 9, 2017 to see my first BTS concert live from my bed. It was an emotional concert, I laughed with them and cried with them. I will never forget they sang "Born Singer" than did closing talks. Hobi started crying, than tearier eyed Tae, followed by crying Jungkook and Yoongi.  Jimin was so proud that he didn't cry, Jin had us laughing with his heart hat and finally Namjoon finished up with his inspirational words.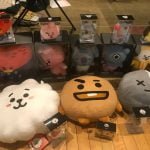 Line Friends opened in NYC and I went the last week of December 2017.  Spent way to much on pillows, stand up dolls and keychains.  This was my first time going into NYC to go shopping.  I grew up on Long Island, its an one hour train ride and I rarely went into the City.  BTS changed that.
In April 2018, I was invited to my first GC on Twitter. There where 10 women in this group chat and we talked every day.  They live in the USA, Canada, and Germany.  By getting to know them I decided to change my profile picture to one of me and openly spoke about being an over 40 ARMY.
On April 25, 2018 I purchased tickets to the BBMAs, airfare to Las Vegas, and made my hotel reservation. I was going to see BTS perform at the BBMAs with my daughter.  I was so excited. It was going to be their come back stage! We were leaving Friday May 18, the day before my daughter decided she could not go, she did not want to do the flight or be in a crowded venue.  So I decided to go by myself.  I knew there were army activities going on and I am an extrovert, I love meeting new people.  So I went to Vegas by myself and had one of the best vacations of my life. Saturday afternoon wearing my JHOPE shirt I meet up with a group of ARMY and met Trish, we have been friends ever since than. Trish and her daughter where going to the pool so we parted ways, promising to share an Uber later for an army dinner at a Korean BBQ.  I went walking on the strip. I felt a tap on my shoulder. I turned around and a woman was standing there with a Mang sticker. We started talking, her name was Kim and we hit it off. She came shopping with me than we grabbed a drink at Starbucks.  The hours spent with her forged a friendship for life. 
My next adventure actually started on May 5, 2018 which was my sons 12th birthday.  BTS Speak Yourself tickets when on sale.  I had a group of 5 people set up to help me get tickets. I was waiting days before making sure my login worked, than it was time I had 3 phones, an ipad and a computer set up. Any BTS fan who has tried to get tickets knows the little walking man and over 1,000 people in front of you.  I was so upset waiting my turn knowing they would sell out fast.  Tears where running down my face in frustration thinking I will not get in.  Than one of my friends Linsey from work got me GA (floor standing room) for the September 28, 2018 Prudential center in NJ and I got us upper balcony seats for the 9/29. Now my tear where tears of joy, I am seeing my first full live in person BTS concert.
NYC Army were doing a get together in Time Square on June 9, 2018 for BTS' 5th anniversary.  It was on the red stairs in Time Square, right near Line Friends store.  While at Line Friends I got the attention of the a JTBC journalist who asked if she could interview me at my house for a BTS special.  The special was aired in Korea on July 5, 2018 and I got my 2 minutes of fame on TV.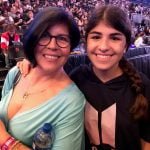 On September 28 and 29, 2018, my daughter and I saw BTS at the Love Yourself concert, Prudental Center in NJ.  Some people spent a week camping out on line for GA wrist bands. I got up at 4 am it was dark and raining, I was one of the first non campers on line.  I got number 838 at 12:30 pm.  We got a standing spot off the corner of the stage.  It was all I dreamed of.  The concert was an incredible experience. The next day I got up at 5 am for merch.  I got the last group picket. We were the first row of the second section.  Loved it so much, you could see all the choro.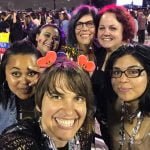 With the help of friends I was lucky enough to get tickets to Citifield for BTS's first stadium concert in the US and it was GA again.  This time I went with five of my Twitter group chat friends. We had a great spot on the left of the center stage and I was also able to walk to front of the main stage.  I can't explain what amazing concerts BTS put on.
Love Yourself Speak Yourself was announced and I was fortunate in getting tickets for Day 1 Chicago and both days in New Jersey.  A friend that I meet at BBMA in 2018 invited me to join her on Day 2 floor seats in Chicago.  Went by myself to Chicago and meet with my twitter GC friends.  May 11 th was a cold day with rain on and off, went with Trish to the pop up shop spent several hours on line and made new Army friends. Trish and I had floor seats to the right of the center stage, and yes Soldier Field is bloody cold.  Luckily the rain had stopped.  JK flew over us, the show exceeded all expectations.  The next day it was cold and rainy the whole concert. This time I was on the left of center stage. BTS gave us another incredible show even with the weather conditions.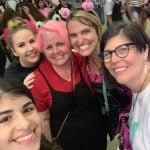 The next BTS concerts I went to were May 18th and 19th in New Jersey at MetLife Stadium. Went with my daughter was in the 300s day 1 and 200s day 2.  My husband asks how can you see the same concert so many times.  The reason why, ever BTS concert is different. The energy from army, the excitement of each song, when will we cry, when will we laugh, and can I do this every day for the rest of my life.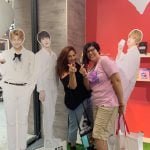 I finally meet my first local army in August 2019, my Unnie Christine, instant friends have spent many hours talking about BTS and sharing of lives with each other. The first weekend after we met, we had a great time going to a cup event in NYC for JKs birthday.
The following week I asked a friend from middle school, who is not army to join me for another cup event in NYC. She had fun but still isn't army. My friends and family don't get BTS, my daughter who is army, excepts that I am obsessed with BTS.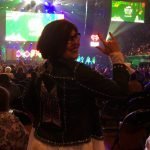 With 2019 coming to a close I decided to try to get tickets to Jingle Ball in LA to see BTS one more time. I got a 4th row seat to the right of the stage. Another solo trip which I loved. Vacations with army are the best. Had lunch at Chosungalbee, visited Line Friends LA, saw BTS close up, went namjooning at the Getty Center, and walks on Manhattan Beach.
I live in NY so you would think I would do Time Square for New Years Eve.  To see BTS one last time, but my family did not want me to go and I just saw them up close at Jingle Ball. So I stayed with my family and friends.
Wow MOTS world tour for 2020 was announced  and  I got presale with my Weverse membership.  I purchased silver sound check for both days in NJ; one gold sound check in Chicago; and great 100 section for day 2 Chicago.  My dreams have come true I will finally get sound check. 
Than COVID. BTS postponed their concerts but I am so happy I still have my tickets.  They keep me going thinking one day I will get to see them and I have sound check.  Watched online concerts, spent hours on twitter, vlive, YouTube, and Weverse. Life goes on, Dynamite, Butter, Hot 100 number 1, Grammy nomination. Bought so much merch on Weverse that you would think I would be a stockholder by now.
As soon as our household was vaccinated I spent a week in Las Vegas with my BTS Army friend I met 3 year earlier at BBMA. Trish, Kim and myself were reunited after seeing each other last at the May 2019 Love Yourself Speak  Yourself concert in NJ.  I had a great time walking around casinos, sharing meals, watching BTS on Billboard Music awards, and the Grand Canyon.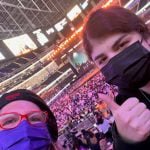 I was devastated when Ticketmaster refunded my MOTS tickets but lucky to be able to go see Permission to Dance Live in LA. No, I didn't get great seats but I was able to get tickets and this time my daughter joined me. I really can't believe I spent a week in LA from November 26 to December 3, 2021. It feel like a life time ago and it hasn't even been a month when I am writing this.  Since I was on EST I found it easy to get up at 5 am on 11/27 for merch.  I called my army friends that I was meeting up with to find out if they wanted any merch. I bought for myself, my daughter and 6 other friends.  I enjoyed seeing BTS four time with army, we laughed, we cried, they made us so happy and BTS looked so happy. I am looking forward to traveling to see BTS and fellow armys for years to come.