Serendipity – An Unplanned Fortunate Discovery
Purple has been my most favorite color since my early childhood years. I never would've imagined that the color would eventually take on an entirely new meaningful spot in my heart when BTS entered into my life, as Purple is meaningful to BTS as well. While writing this, I decided to research what Purple stands for and I was pretty blown away. I instantly read Purple inspires us to discover and divulge our innermost thoughts. As a result, we gain a more profound understanding of who we are.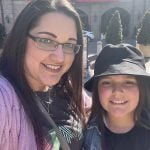 This is just the start of the serendipitous moments I've experienced since March of 2021 (at age 39) when my third decade was soon ending and the next chapter in my life was beginning as I was falling into the Bangtan rabbit hole.
I regret not paying much attention to BTS prior to the moment they hit the rooftop for their colorful and happy Grammys Dynamite performance. As my eyes became glued to the TV screen, my husband exclaimed something like "Who is this?! They're killing it!" I instantly agreed…their production, their style, their stage presence, their synchronization…I began to wonder what I've been missing out on. The next day I learned that a special friend, my daughter's dance teacher, was into them as she showed me their Mic Drop dance practice. I was also a dancer in my childhood/teen years so she knew I would be interested in their skills that went far beyond Dynamite. I'm forever grateful for our BTS convos during this journey as my eyes were opening wide to this feel-good phenomenon that I've never experienced before. I then watched Carpool Karaoke and Black Swan on James Corden, Butter, Fake Love…each one drew me in further. I stumbled upon the spectacular Grand Central Station performance of ON (omg, a dance break?!) and as soon as it ended, I told my daughter "I think that is one of the best performances I'll ever see in my entire life." I'll never forget that feeling; I was stunned. "I just wanted to learn their names." In August 2021 while home recovering from surgery, I spent a week watching some of their most popular MVs, dance practices (I love the foot squeaks and stomps) and spectacular awards show performances. Idol, Fire, Not Today, Danger, Dope, BWL, and Save Me are some that stood out the most at that time. The MMA Mikrokosmos performance caused me to declare that I have got to see their show live in person someday. I played BTS in the background in my kitchen daily, constantly asking Alexa "what's this song called" to add it to my playlist. Little did I know, there were over 250 songs to discover…most written and produced by the members themselves…and many songs that brought me to tears. The wide range of genres that are incorporated was just as fascinating to me as their healing lyrics about mental health, social issues, standing up for yourself, finding and chasing your own dreams and most of all, learning to Love Yourself. As I fell further into the rabbit hole, I was 100% sold and knew that I could not imagine my life without these 7 talented superhumans in it.
In October 2021, my daughter and I were up at the cst start time of 4:00am to watch their PTD online concert. We went through all the emotions and excitement almost as if we were there in person. If I didn't quite realize it already, I knew then…I was ARMY. Baby Army, to be fair. I had already peeped further into the world of Twitter where I reached a new level of comfort while reading informative, heartfelt and hilarious Tweets from this massive digital ocean of Army. Since then, I've made a handful of great Army friends thanks to a group chat or two. I hope to be lucky enough to be able to meet each of them someday. Between social media, attending a couple of cinema concert viewings and reading Discovering BTS, it was so refreshing to be in the company of so many who "just get it."
When BTS had a clean sweep of awards at the 2021 AMAs, including Artist of the Year at an American awards show, it was a night I'll never forget. I understood the significance of this moment and how insanely hard they worked to achieve such an honor on this side of the world. I remember crying happy tears full of pride in front of the TV and even though my husband likely thought I was ridiculous, he has accepted my love and appreciation for BTS and understands that they bring me joy and peace. He's fine with my little corner of collector's items and fan art in our room, he sings along at times, and he can now easily name each member (which I'm very proud of). He has read some of their lyrics and understands their ability to touch someone's heart, so I am grateful for his support. My 4 year old son loves dancing to their fun music also, so I'd like to think that we are an Army Household (just don't tell my husband I said that…lol).
Our close friends and family eventually learned about my new "obsession." While I don't need anyone to like them and will never try to force them on anyone, I have occasionally mentioned their talent to people who I thought would maybe love to know about their art and/or impact. I did not get many bites, except for a couple of lifelong friends who once asked to see what the hype was and they each noted that they could see why I liked and appreciated them. We've also heard all the dreadful typical comments such as: I don't understand what they're saying, it's not my kind of music (when they aren't even aware of their musical capabilities), oh they're just a boyband, you're too old to enjoy that (they would be shocked to see the fans of all ages), they look like girls with their makeup, etc. I eventually had to remind myself that I don't need anyone's acceptance about BTS or anything else in life. Maybe they'll never understand the healthy impact this group has had on my soul. Thanks to all the good that this group stands for, I am finally slowly learning not to be bothered by others' opinions of me which is huge. When people roll their eyes about something we enjoy, I later use their misinformed remarks as teaching moments for my daughter, and we will continue to quietly declare between ourselves that "so and so" could probably benefit from a little BTS in their life, but that's ok, it's their loss  🙂
It took me a while to realize and admit that BTS ended up being a huge contributing factor to me breaking through one of the deepest, most unexplainable depression waves I've ever experienced, and I somehow broke through it pretty much on my own. I am a constant work in progress and if I ever reach that wave again, I now have a Piece of Peace that I can turn to for comfort. BTS's music and content has provided coping mechanisms to navigate the many thoughts and emotions in my head, to learn to know my worth no matter what, to learn to not tolerate toxicity, to focus more on improving myself and my own goals and dreams, to see the good in the world, the list goes on. Maybe I needed to go through this particular hard wave. I now wholeheartedly understand the common phrase that "BTS finds you when you need them the most" because I went through it. I often say that I wish I was Army for certain milestones in their 9 year career, but I've made it a mission to try to catch up on as much of their endless content as possible. I don't make much time for TV, but thanks to many bath soaks, I've enjoyed watching them grow up through their endless behind the scenes content like Bangtan Bombs, Episodes, variety shows and personal live vlogs. I witnessed their vocal, rapping and dance talents improve with each release (as if they needed improvement), I admired their brotherly friendship bonds and I recognized the unique varying factors and talents that each member brings to the table. I'm always in awe of the differences in their vocals and how well they compliment each other. The same goes for their individual fashion and dance styles, their individual charisma, their individual senses of humor, everything. The love and respect that these 7 guys have for each other and the love that they give to their fans, their Army, is why I have no doubt in my mind that BTS is forever. I've had many favorite artists in my lifetime, but none of them come close to the various methods of heartfelt fan interactions like they have. How lucky are we to live in the same era as BTS?!
Thanks to their relaxing series In The Soop, I was inspired to explore hobbies with my daughter that we didn't make much time for in the past. We shared quality bonding time discovering various hidden talents of our own such as drawing, painting, bracelets and other crafts. Most of those hobby nights consisted of watching a concert for inspiration, of course. All are moments I'll cherish forever and I hope that she will too. Maybe by the time we read this again, we will have our own side business doing the things that we love.
I missed lots of Chapter 1, 8 years to be exact, but I'm beyond proud to be a part of their Chapter 2 journey and any other Chapter that they choose to explore during and after their individual projects and military service. I'm loving all of their unique styles and lyrical emotions that they continue to showcase on their own. I wish for their happiness and peace always, no matter what avenues they explore in life.
I am eternally grateful to these 7 Wonders from South Korea for everything that they are to their Army and everything that they stand for. They have changed lives for the better. I hope that their Army helps comfort them just as much so that they continue to carry us along on their journey of transformations. I hope they know that they have inspired us to take on our own journeys of self acceptance and transformations.
As their meaningful recent song "For Youth" states, "I'll be with you for the rest of my life." Apobangpo – Army Forever, Bangtan Forever.
Thank you will never seem like enough, but Thank You for your hard work, BTS. We hope to have the chance to finally see you in the Purple Ocean someday. Until then, our Army Bomb shines bright for you from all the way in Louisiana.
Seri