Update August 11, 2023

It has come to my understanding that many of you are having trouble starting and/or completing your stories, therefore, along with ARMY stories, I'm now accepting poems, love notes (see example below), and fan art for book two, Discovering BTS: the best is yet to come. As stated in my previous newsletter, the deadline has been extended to October 31, 2023, however, if you submit before the end of September, your name will be automatically added to my September 30 GA!

• If submitting art, make certain it contains your digital signature/watermark. Send as a hi-res attachment and email me at: heyarmy@discoveringbts.com. Make certain the body of the email contains your full "legal" name, address, and name of your design if applicable. Tell me how you want your name/copyright to appear in the book.

• Love Notes are a simple way to express your feelings to BTS, and consist of one to three sentences, along with your signature. Here's an example:  "Dear BTS: You make each day brighter. Thanks for everything you do. Love, Army2345"

• Stories, Poems and Love Notes are only accepted via the website. Remember you must be logged in to add or edit.
Submit Your Stories
All submissions are automatically forwarded to me. No need to send a separate email.

I will share an online list in Nov, if your submission has been accepted for the print book. However, all ARMY submissions will remain on the website for you, your friends and family, BTS, and all the world, to see.

Thanks for being a part of this project. I purple you!
Marion


Original post
Hey ARMY, Namjoon and BTS want to hear your stories… In June 2021, they talked about wanting to know about your dreams, where you live, and more. So shout it out. Now's your chance!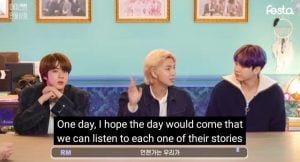 I'd love to hear from ARMY around the world. So, if you're a dad, a mom, a nurse, a teacher, a grad student, an aspiring artist, or something in between… tell me how you discovered BTS and how it changed your life, etc. All submissions will be displayed on the website. Certain stories and/or excerpts will be selected for inclusion in my book, Discovering BTS: an unexpected journey. 
Note: You can submit your stories in your own language, though I prefer English for selfish reasons.  Regardless, I want to hear from you. Also, there's no cut-off date. Even after the book is published, the website will still be accepting stories. Let's keep this going. Also, here's a tip for you. Write your story in your word processor and when you're ready, simply copy and paste on our website. 
Once you have completed the registration process (see ADMIN section), you can submit your story. Please note, signing up for the newsletter and registering to share your story are different things. Signing up for the newsletter via the Home Page will not let you share your BTS story.
While you're composing, you will be able to save it as a draft. After you submit your story, you'll still be able to make revisions or add to it by logging in and going to your account. 
Your submission will be subjected to review. If I feel the content is not related to the intent/purpose of this site or contains remarks that are offensive and/or defamatory to BTS and/or our readers, your account will be terminated.
Note: By submitting your story, you are giving me permission to include it (or any excerpt) within my book(s).  Please see our Privacy Policy for further information.

Thanks in advance for sharing your thoughts.
Borahae,
MJ Chard
PS For a current list of stories already accepted for publishing, please see this link
Submit your story, poem or Love Note for book 2 (you must register first). In order to add/edit, please log in!)