Update March 20, 2023
Due to lack of interest the cut-off date has been extended until April 30,2023, in the hope that more submissions will come my way. As of today, I only have seventeen, and not the sixty I was eagerly expecting.
Borahae, Marion
Original post
Hey ARMY, Namjoon and BTS want to hear your stories… In June 2021, they talked about wanting to know about your dreams, where you live, and more. So shout it out. Now's your chance!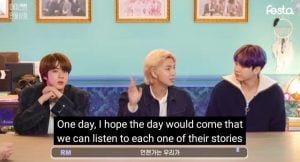 I'd love to hear from ARMY around the world. So, if you're a dad, a mom, a nurse, a teacher, a grad student, an aspiring artist, or something in between… tell me how you discovered BTS and how it changed your life, etc. All submissions will be displayed on the website. Certain stories and/or excerpts will be selected for inclusion in my book, Discovering BTS: an unexpected journey. 
Note: You can submit your stories in your own language, though I prefer English for selfish reasons.  Regardless, I want to hear from you. Also, there's no cut-off date. Even after the book is published, the website will still be accepting stories. Let's keep this going. Also, here's a tip for you. Write your story in your word processor and when you're ready, simply copy and paste on our website. 
Once you have completed the registration process (see ADMIN section), you can submit your story. Please note, signing up for the newsletter and registering to share your story are different things. Signing up for the newsletter via the Home Page will not let you share your BTS story.
While you're composing, you will be able to save it as a draft. After you submit your story, you'll still be able to make revisions or add to it by logging in and going to your account. 
Your submission will be subjected to review. If I feel the content is not related to the intent/purpose of this site or contains remarks that are offensive and/or defamatory to BTS and/or our readers, your account will be terminated.
Note: By submitting your story, you are giving me permission to include it (or any excerpt) within my book(s).  Please see our Privacy Policy for further information.

Thanks in advance for sharing your thoughts.
Borahae,
MJ Chard
Submit your story – book two (you must register first!)