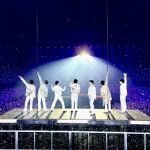 ❣️Look inside yourself. Find the light that belongs to only you. Then look for me, you'll see me; my light shines there too… next to you. 🌟🌟💜
My name is Julie. I've danced most of my life. Being a dancer is what provided that connection to BTS. It's what led me to and got me started watching their videos and listening to their music.
Right at the onset of the Covid-19 pandemic I lost my job at a place that I worked and loved  for over 20 years. I was a single mother, and it left me devastated. That job and those people were my family – they were my life. Prior to that, I had lost both of my beloved parents to cancer. First my amazing father, then my best friend… my mother. Having to take care of them through those years, while watching them both suffer took such a toll on me. As an only child, I completely relied on my work family. They were there for me through so much. I was happy and thought they would be with me until it came time to retire. So being laid off was like another death to me. I mourned that loss and wasn't sure what I was going to do. I was terrified at the thought of having to find a job at my age! Self-doubt filled me to the point of almost drowning. I stayed in bed for almost three months. Then on a Tuesday evening, I pulled up YouTube on my iPad and happened across a BTS video. I had heard the name BTS here and there but had no idea beyond that. What got my attention right off the bat was the title and the word(s) "[CHOREOGRAPHY]", followed by "BTS 'Danger' dance practice". Since I had once lived to dance, watching this video enthralled and fascinated me. Immediately I was drawn to JIMIN – I was captivated from the start. All seven of them, dancing in such synchronization and rhythm had me awe struck! They hit every beat, but they hit different. It was exhilarating yet familiar. I watched their videos well into the night. 🌙✨ When I finally went to sleep, I dreamed of dancing, which I hadn't done in YEARS! After that, I was IN! No doubt about it. That night awoke a familiar feeling in me and gave me that spark and push I needed to get up and MOVE! And move I did… in more ways than one! I found a new job, I started listening to music again which included everything BTS; but best of all… I wanted to dance again!  It was my new beginning.
Now I wish I could move like I did in my 20's & 30's. Heck even in my 40's I could still keep up! But realistically, I have my limits now. My rhythm and sense of timing are still there, even though my bones & muscles are in a different state. When I watch BTS, I feel and experience dance again through their movements and performances. It's familiar and so comforting. I hold on tight to that feeling. So yeah, I'm hooked and ARMY proud! 💜 They not only brought dancing back into my life, but I remember what it feels like to be young and have passion!
These seven young men: Kim Namjoon, Kim Seok Jin, Min Yoongi, Jeong Hoseok, Park Jimin, Kim Taehyung, Jeon Jung Kook… BTS,  brought me back to life & my love for dance!  They gave me back my center. 🌟
============================
My thoughts & feelings about BTS & the members:
I just adore these guys and everything they do and stand for. They are such a class act, truly genuine…GENUINE artists! Their hearts are full of love, kindness, respect, honor & understanding for themselves and for us. They always send a positive message – something that we all desperately need. For them it's not about sex, anger, toughness or $$$. Their hope is to inspire and to bring peace and unity to the world… that is REAL. They never lose that unique trait that sets them apart from ALL other artists… humility. They are the humblest young men without question, and that goes for all 7 members! It's what makes them truly captivating; besides their incredible talent and drop dead handsome looks, it is their shared humility. It's present in any given instance. It never wanes.
Kim Namjoon, Kim Seok Jin, Min Yoongi, Jeong Hoseok, Park Jimin, Kim Taehyung, Jeon Jung Kook… BTS!!
Kim Namjoon (RM): THANK YOU for being the definition of a leader. For your serious love for the arts including music. For your quiet super intelligence. For your responsible sensibility. For knowing English. For your ability to speak for the entire group, with their total trust and confidence. For your written word.  💜
Kim Seokjin (Jin): THANK YOU for being the oldest hyung of the group & taking on that role when you were born the youngest in your family. For your honesty. For your quirky humor. For your love of cooking. For learning to dance & sing so magnificently. For your one of a kind windshield wiper laugh. For being WWH with ease.  💜
Min Yoongi (Suga): THANK YOU for your underlying real love of BTS. For your gifted talents in music. For your quiet caring and sensitive side. For your under-the-surface sense of humor. For you bridled patience. For your genius sense of music. For your hidden dance skills. For your tongue technology.  💜
Jeong Hoseok (JHope): THANK YOU for your heart. For your positive influence. For your bubbly personality. For your superior dance skills. For your rhythm in everything. For your vulnerability. For your love of hand/carry bags. For your affectionate ways. For your amazing sense of style. For your fear of bugs. For being Our Hope.  💜
Park Jimin (Jimin): THANK YOU for finding me and introducing me to BTS. For your generous, kind, and caring nature. For your quiet intelligence. For all your undeniable athletic skills. For your dual personality. For your breathtaking beauty and your hypnotic sex appeal. For your love of animals. For your compassion and empathy. For ALWAYS being there for the members. For being the last member to join. For being the best all-around dancer beyond K-pop bar none. For having my heart.  💜
Kim Taehyung (V): THANK YOU for your old soul. For your friendship with Jimin. For your unplanned audition. For your sexy sultry voice. For loving your grandparents that much. For your younger goofy self that still lives inside you. For your thoughtful ways. For your intense look. For your sensitivity. For your handsomeness. For your quiet genius. For your lack of ego.  💜
Jeon Jungkook (JK): THANK YOU for being the youngest, our Golden Maknae. For being able to do EVERYTHING with confidence. For your emotional connection to the members. For loving them so much. For learning and taking on traits from each member. For the privilege of watching you grow. For loving your mom. For your beautiful pitch perfect voice. For your sensitive side. For your bunny facial expressions. For your love of ARMY.  💜
To quote Bang Si-hyuk:  "They cannot be recreated or duplicated. This happens once in a lifetime." …and it happened in mine! 🥹